Written by
Patrick Meyer

Reading time
3 min
read
The weekend's game is coming up. To make things a bit more interesting you decided to place a bet on the outcome. Deciding to play a bet is one thing, but where to place your bet is normally the first conundrum a new betting punter in South Africa will experience. Don't worry, we are here to help you find a betting site with a welcome bonus to make sure your first bet is one where you get bang for your buck.
What is a welcome bonus?
Betting sites offer a welcome bonus to new players to make them feel welcome. Betting sites with a welcome bonus give players the chance to experience using their site and placing some bets, oftentimes without it having to cost you any of your own money. A free R50 bet so you can see what it's like, and to experience the thrill of winning a bet.
How do I get a betting site welcome bonus in SA?
Betting sites in general make it really simply to get a welcome bonus in SA. Let's be honest, if you run into any trouble with receiving or using your welcome bonus, chances are that you will not stick around to place any bets with your own money. 
To get a betting site welcome bonus there are three criteria that you will have to meet as an South African:
You must be above the age of 18 to gamble legally in South Africa
You need a phone or PC to place bets on a betting site
You need to be a first time gambler at the site
If you meet those three criteria then the process is pretty straightforward from there. All you have to do is sign up for an account at the betting site of your choice. Signing up for an account is free and you simply need personal details like name, ID number and address to open an account.
What betting sites can I get a welcome bonus from?
Supabets Welcome Bonus
Supabets offers all new players a R50 free bet welcome bonus. It can take up to 24 hours after sign-up for your Supabets account to show your free R50 bet in your Supabets Wallet. If you just want to try out a betting site for this weekend's game, then this is a great way to try betting without any risk. With over 1300 different betting markets covered, I'm sure you'll find the winning bet for your free R50.

Best betting promotions from Supabets
R50 Free Bet
100% 1st Deposit Match up to R2000
50% 2nd Deposit Match up to R1000

Betway Welcome Bonus
Betway is one of the most well known sports betting brands in the world. As such you would expect a great welcome bonus for new players. Unfortunately there is no free bet with Betway, but they do offer a 100% first deposit bonus up to R1000. That basically means that if you deposit R100 into your new Betway account, Betway will match that R100 too.

Best Betting promotions from Betway
Boost your Multi Bet winnings by up to 300%
Join today and get a 100% first deposit match

Playa Bets Welcome Bonus
Playa Bets knows how to help first time bettors get their feet wet in the world of sports betting. They offer a R50 welcome bonus, basically giving you a free R50 bet to try out the platform. This isn't surprising as Supa Bets is a truly South African sports betting brand that has been catering to South Africans for over a decade.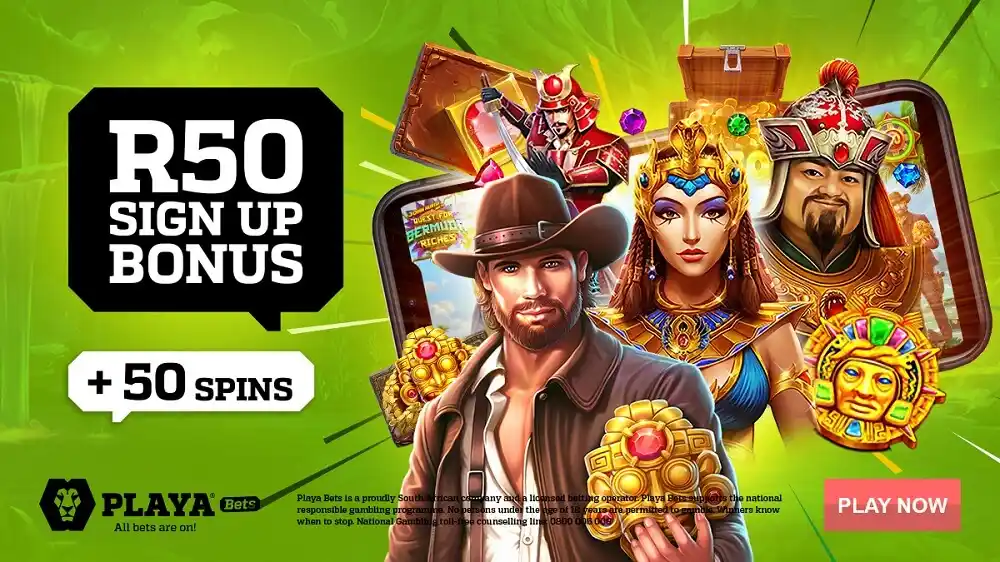 What are the best promotions from Playa Bets?
R50 Signup Bonus + 50 Free Spins
100% First deposit match bonus up to R2000
Refer a friend and earn R50 for every friend that signs-up for an account!

10bet Welcome Bonus
10bet is one of the betting sites with a welcome bonus set up to help boost a new players capital to place bets as soon as possible. Once you have opened your 10bet account and deposited a minimum of R50 you will get up to 50% back in a free bet, in this case R25. This goes up to a maximum free bet given of R500 if you make a first deposit of R1000.

What are the best promotions from 10bet?
Get 100% up to R3,000 Games Bonus, 50% up to R500 Sports Free Bet and 50 Free Spins on Queen of Fire
20% sports match offer up to R2,000

A great incentive to start betting
A good welcome bonus experience can make or break a betting site for a player. It gives you, the player, the opportunity to try out the betting site at a low, or no cost to you. A big part of having fun playing bets on sports events is how easy it is to deposit funds, play bets and withdraw winnings. A welcome bonus gives you a great incentive to try online betting sites out for the first time.
Have You Found What You're Looking for?
Your feedback is paramount!