Written by
Patrick Meyer

Reading time
7 min
read
Soccer is the most popular sport in South Africa. Sports betting is also a popular pastime in the Rainbow Nation. Bettors love to place bets on the PSL, Bafana Bafana, and popular European Leagues.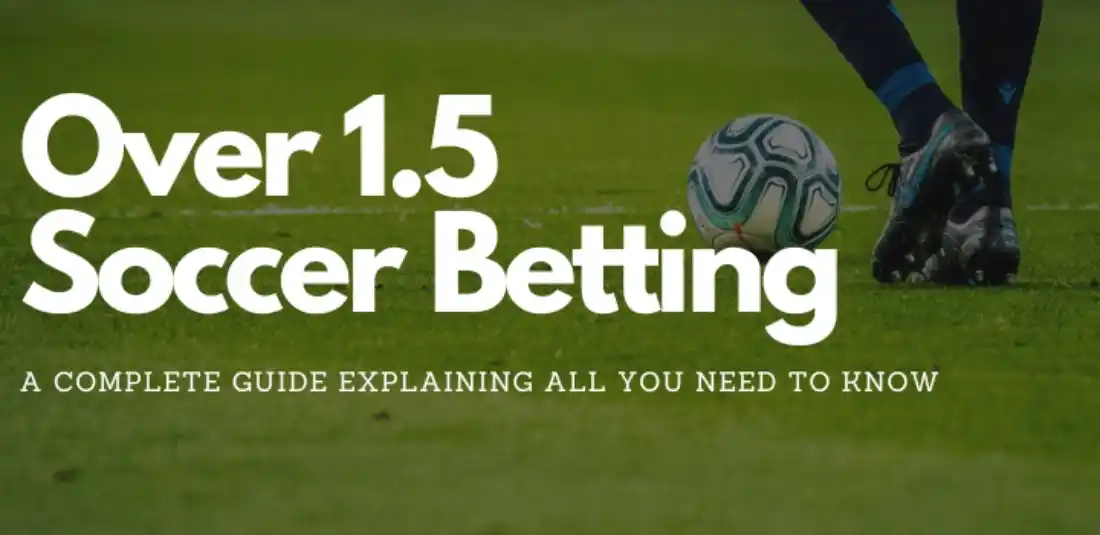 If you are new to soccer betting in South Africa, you must learn all about over 1.5 soccer betting. It is one of the smartest and safest bets you can place in the sport.
Read our in-depth guide to learn everything you need to know about over 1.5 soccer betting. It will help you become a smarter sports bettor!
Understanding Soccer Betting Basics
In soccer betting, you aim to make accurate predictions about certain outcomes in a match. When you are correct, you win money and when the opposite outcome happens, you lose your money. Here are some of the key betting terms to keep in mind:
Odds – This is a number that specifies how much you get paid if you win a bit. In South Africa, we use decimal odds – numbers like 1.1, 2.5, 3.2 and so on. Higher odds mean that the risk is higher, but also that you get a larger amount if you win.
Stake – This is the amount of money you wager on a bet.
Bookmaker – The company, person, or website that takes your bet and pays you money if you win.
Live Bets/In-play Bets – Placing bets while a soccer match is happening live in the stadium (and on TV).
Betting Market – This refers to the type of bet offered by the bookmaker. In a soccer match, there can be many different betting markets. Each focus on a different aspect of the game like the winner, the number of goals scored, etc.
Popular Betting Markets in Soccer
There are four main types of betting markets in soccer. These markets are available at most bookmakers in South Africa. They are:
Match Result (1x2) – This is the easiest bet to understand. You have to pick one of three possible outcomes: a win for the home team (1), a draw (x), or an away team win (2).
Goal Over/Under – This type of bet looks at the total goals scored in a match by both teams. The bookmaker will offer a limit, like 0.5, 1.5, 2.5, 3.5 etc. Your job is to predict if the goals will be over or under this limit.
Final Score – You have to predict the final score of the match.
Both Teams to Score (BTTS) – You predict whether both sides will score at least one goal each in the match.
Understanding Soccer Odds
Imagine a match between the champions Mamelodi Sundowns and the minnows Capetown Spurs. You want to bet R100 on a team to win the match.
You might see the odds for a Sundowns win as 1.1. To know how much you will win if you bet R100 on the Mamelodi Sundowns, multiply your stake by the odds:
R100 X 1.1 = R110.
That R110 includes your stake of R100, which means that you will get only R10 as a profit. This is because the Sundowns are heavy favourites to win the match.
In the same match, the Spurs will have much higher odds because they are the weaker team. You might see something like 12.5 for a Spurs win. If you win that bet, you will get:
R100 X 12.5 = R1250
Your profit is much higher here at R1150. But your chances of winning are also much lower because the Spurs are a much weaker team!
An In-Depth Look at "Over 1.5"
An over 1.5 bet in soccer is one where you are predicting that there will be at least two goals scored in the match. It doesn't matter which side scores these goals.
It doesn't matter which side wins or loses, or if the match ends in a draw. The only thing that matters is that at the end of the match, the total number of goals scored should be 2 or more than 2.
By the end of the match, we mean the end of the regulation 90 minutes plus injury time. Goals scored in extra time or penalties don't count towards this betting market.
The over 1.5 bet belongs to the family of "goal over/under" betting markets we explained in a previous section. The 0.5 decimal removes the possibility of a draw and creates a two-way market.
You either win or lose in a 1.5 betting market (and all other over/under markets). There is no option for a draw or refund.
How "Over 1.5" Works
Bookmakers usually offer both over and under-1.5 betting markets in soccer. Let's look at a Premier Division match between the Orlando Pirates and Chippa United.
In the 2022-23 season, the Pirates had the second-best attack in the league with 40 goals. And Chippa United had the worst defence, conceding 44 goals.
So, in any match between the two, it is safe to assume that there will be plenty of goals. If you think that there will be more than 2 goals in a match, place a bet on over 1.5.
Here are some common examples of a winning outcome in this particular over 1.5 bet:
Orlando Pirates 2 – 0 Chippa United
Orlando Pirates 1 – 1 Chippa United
Orlando Pirates 3 – 2 Chippa United
Orlando Pirates 0 – 2 Chippa United
In all these outcomes, the total number of goals scored is 2 or more. Now, to make things even easier to understand, here are the only 3 outcomes that will make you lose this over 1.5 goals bet:
Orlando Pirates 1 – 0 Chippa United
Orlando Pirates 0 – 0 Chippa United
Orlando Pirates 0 – 1 Chippa United
And in these three situations, the number of goals scored is less than 1.5 – either 1 or 0. If this happens, you lose the bet.
Analysing Probability and Odds
The over 1.5 bet is popular in soccer betting. Soccer is a sport where scoring goals is the main goal. The odds of a match having less than 2 goals scored is around 25% according to FootyStats. It is very common for soccer matches to have 2 or more goals scored.
As a result, over 1.5 bets get lower or shorter odds from bookmakers. When the chances of an outcome are higher (and the risk to the bettor is lower), the odds are also lower. You are more likely to find the odds of over 1.5 bets to be between 0.30 and 2.75.
Factors Affecting "Over 1.5" Bets
It is important to note that all such bets don't have lower odds. Depending on a wide range of factors, you may find higher or lower odds for over 1.5 bets in a specific soccer match. They include:
1. Teams and Recent Performances
This is usually a decisive factor. Take the Mamelodi Sundowns, with Peter Shalulile and Cassius Mailula in fine-scoring form. Here, the over 1.5 is an easy, low-risk bet.
But you also have to consider the opposition. With a smaller team with a tight defence, like the TS Galaxy, there is less chance of an over 1.5 game.
2. Match Significance
Take the Soweto Derby – when the Kaizer Chiefs play the Orlando Pirates, goals and tackles are going to fly. But in a lower league match at the end of the season with nothing at stake, you are more likely to get an under 1.5 score.
Tournaments and cup finals are rather different. Even though the stakes are high, many teams opt to take a cautious, defensive approach. For instance, between 2017 and 2020, we had four straight Nedbank Cup finals end in 1 – 0 wins.
3. Defensive Strategies
Always check the recent defensive stats and strategies of both teams. When both teams have a record for low goals against, a very defensive goalless draw or a 1-0 result is likely.
On top of tight, 5 or 6-man defences, many smaller teams also have low attack and goal-scoring stats. Teams like TS Galaxy and Sekhukhune United are perfect recent examples.
4. Offensive Prowess
Any talk of attacking prowess has to begin with the Sundowns. They scored 50+ goals in the previous season, the most of any team in the South African league. Low-scoring matches and draws are less likely when you have a match involving such top teams.
Stronger teams play more aggressive, goal-scoring strategies. They also have top strikers like Peter Shalulile and MonnapuleSaleng. Add top assist providers like Kabelo Dlamini and Gaston Sirino, you are more likely to get 2+ goals.
Here are some over 1.5 goals examples:
Mamelodi Sundowns 2 – 1 Sekhukhune United
Golden Arrows 1 – 1 Swallows
Orlando Pirates 4 – 2 Royal AM
For more lekker over 1.5 betting matches, check out our curated list of the top 10 soccer betting sites in 2023.
Advantages and Risks of "Over 1.5" Betting
The following are the main advantages of over 1.5 bets:
Availability – All major bookmakers offer Over 1.5 bets in soccer matches.
Simplicity – Even beginners can understand the basics of over 1.5 bets.
Low Risk – Since matches with 2 goals or more are quite common in football, there is less risk of losing this bet.
Early Outcomes – Often, you don't have to wait until the end of the match to get your win.
Over 1.5 bets carry the following risks/weaknesses:
Low Profits – Over 1.5 markets offer much lower profits when compared to other types of soccer bets.
Unpredictable Form – Even the best-attacking teams have off days and produce low-scoring matches.
Cards and Injuries – Teams often resort to defensive tactics when they lose a player to a card or injury. This can also result in low-scoring matches.
Conclusion
Over 1.5 bets are excellent options for newcomers and the more risk-averse bettors. They are simple, easily available, and offer low risk. If you expect a pulsating match full of goals, this is a recommended bet in soccer.
However, we must stress the importance of safe and responsible gambling for social benefits here. Like all bets in sports, over 1.5 bets carry some element of risk. Never wager more than what you can afford to lose. To learn more about responsible gambling in South Africa, visit this link.
Education and awareness are essential for a safe and enjoyable soccer betting experience. To learn more about some beginner tips for online betting, check out our in-depth guide. Bet responsibly, have fun, and keep winning with smart over 1.5 bets!
Have You Found What You're Looking for?
Your feedback is paramount!