Written by
Patrick Meyer

Reading time
4 min
read
The online gambling landscape in South Africa is on the rise. More and more people are going online to gamble. Why, you ask? It's the adrenaline rush of the game, the hope of winning big, and just the sheer convenience of it all. Being able to gamble from the comfort of one's home or while commuting is a big plus.
Most South Africans are now getting used to the fancy tech and smartphones out there. And why not? It's like having the world in our pocket. With better internet access and smartphones in most hands, the boom of online gambling in South Africa is no surprise. It's super easy for folks to open an app or a website and start betting, be it on sports or online casino games like slots, roulette, blackjack, etc.
Now, let's talk lotteries. A good number of South Africans know lotteries very well. All thanks to the National Lottery. It's been around; people know it, and people play it. It's like the OG of gambling for many South Africans.
But here's a twist: Since April 2023, sports betting online has become the big fish, leaving lotteries a bit behind. Not by much, but it's ahead. Sports, especially football and rugby, have a special place in the hearts of many South Africans. So, it does not come as a big surprise that sports betting has taken the lead.
How Much Does the Average South African Spend on Gambling?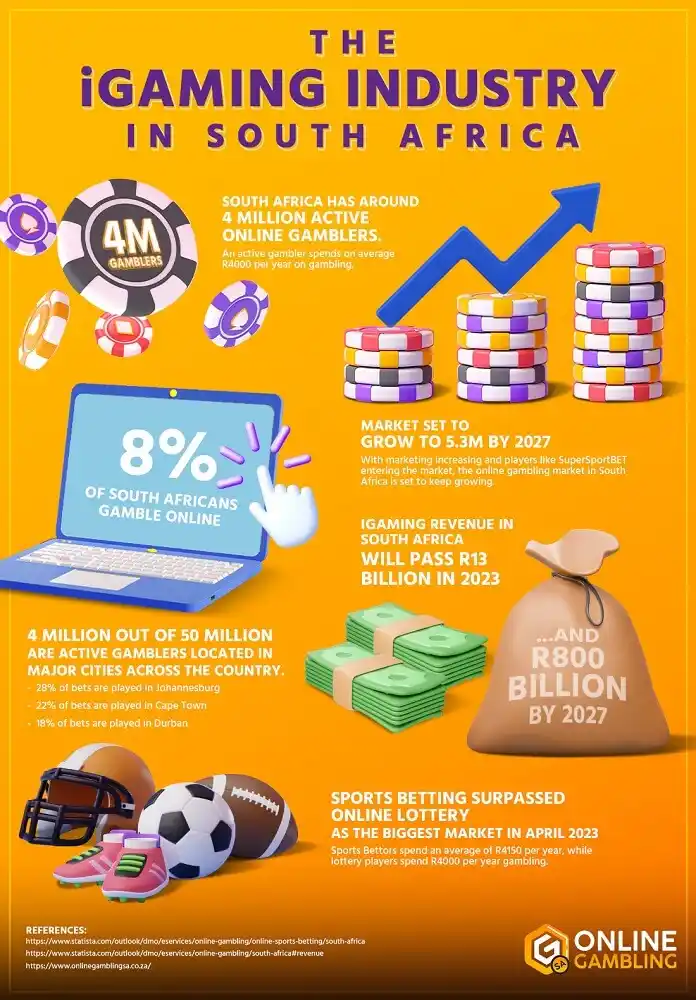 I've got some numbers for you, based on a Statista Report. On average, a sports betting fan in South Africa spends around R4150 every year. On the other hand, those who are into lotteries spend about R4,000 annually. Compare this to 2022, and you'll see the shift. Back then, sports bettors were putting down about R3740 each year, and lottery players were spending more, around R4242.
So, what's the big picture? Online gambling in South Africa is growing, and it's growing fast. About 4 million South Africans are now actively trying their luck, and this is projected to jump to a whopping 5.3 million by 2027. With such growth, by 2027, we're looking at a market pulling in US$1,006.00 million.
Sports betting in South Africa is doing well for itself, with a market volume of US$350.50 million in 2023. Now, if you look over to the US, they are the big players with a volume of US$19,140.00 million.
Lastly, for every online gambler, companies make roughly US$290.60. And if the trend continues, South Africans betting only online might reach 3.52 million by 2027. Right now, only about 5% of South Africans are into online gambling.
So, what does it all mean? Well, with technology growing and the love for sports being ever-present, online gambling in South Africa is only going up. Whether it's the lottery or betting on the big game, South Africans are here to play, and they're playing to win.
Gambling Statistics in South Africa
As of 2023, South Africa is no small fry when it comes to the world of gambling. Here is some sports betting data from South Africa for you. Roughly 4 million people in our rainbow nation are active gamblers. Yep, that's right! And this isn't the end of it. Predictions say that by the year 2027, we'll see this number jump to a whopping 5.3 million!
And guess where most of this gambling is happening? Online! People are going bonkers for it. Since April of this year, we South Africans have been spending our Rands most on sports bets.
This data about sports betting in South Africa makes it clear that it's quite a change from the past years. If you look at how we spent our money last year, in 2022, sports betting was worth R3,740 a year for each player. Lottery, on the other hand, was leading at R4,242.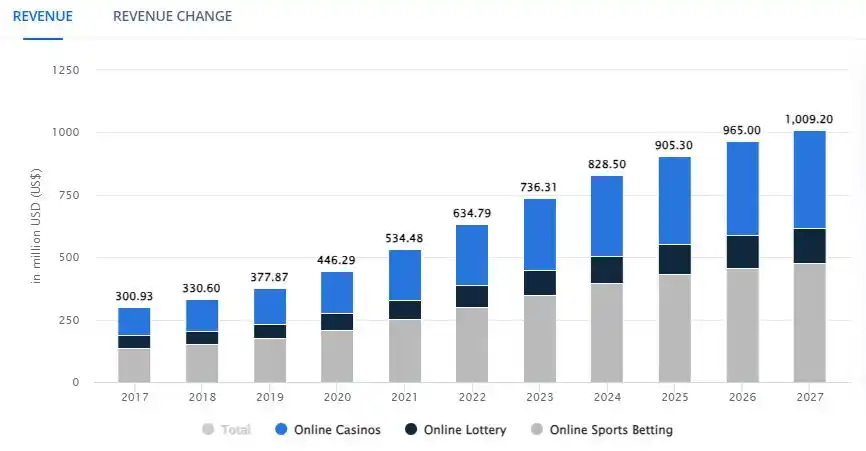 Now, the tables have turned. Sports betting has just overtaken the lottery by a small margin, but it's a start. On average, we're now spending around R4,150 a year on our sports wagers, while the lottery has gone down to R4,000. Online casinos? They're doing their bit too. They're on the rise but still behind lottery and sports betting.
Why Has Sports Betting Grown in Popularity?
You might be wondering, "Why is sports betting getting so big in South Africa?" There's a simple reason for that: We South Africans love our sports. Whether it's rugby, cricket, or soccer, our hearts beat for our national teams. And when there's a big match on? Oh boy, the excitement in the air is something else!
On top of our love for sports, there's more advertising these days for sports betting sites. Everywhere you look, there's an ad popping up, enticing you to place a bet. And let's not forget how these sports betting sites have become sponsors for our big national sports events. It's a win-win, really.
Now, here's the real deal. One of our own, SuperSport, one of the best sports broadcasters around and proudly South African, has got a big plan up its sleeve. Multichoice has spilled the beans that they will be launching a new platform called SuperSport BET before the end of this year.
Now, if you know SuperSport, you'd know this is big news! With Multichoice entering the gambling world, things are about to get heated. They've even got an all-new payment platform called Moment. It's meant to make transactions smooth for us South Africans, making placing a bet easier than ever.
Now, don't think they're going in blind. Multichoice is clever; they've got KingMakers by their side. A big player in Nigeria's sports betting industry. And with their expertise and the wide audience of SuperSport, the sky is the limit. If they offer bets on all the sports they show on SuperSport, well, let's just say we're in for a treat.
Online Gambling in South Africa set to Keep Growing
Online gambling in South Africa is on the rise, and I'll tell you why. First off, companies are spending more on ads to tell people about it. More people see it, and more people want to try it. Then there's the thing with our government. They're looking to make new rules for online casinos. So, people will think, "Hey, if the government is getting involved, it must be safe, right?" This gives them the confidence to give it a shot. As the market gets older and more settled, with all this marketing and new rules coming, I'm positive we're going to see even more people jumping on the online gambling train.
Have You Found What You're Looking for?
Your feedback is paramount!