Written by
Patrick Meyer

Reading time
5 min
read
Luckily for South African sports betting fans technology has changed the landscape in terms of being able to play bets without a bank account. In recent history if you wanted to gamble online you would need a bank account, FICA documents, ID and proof of physical address. Quite the extensive list of hoops to jump through for anyone who just wants to play a R25 bet on this weekend's game.
Since we are in 2023 where technology is making day-to-day living more convenient we can use cash vouchers and mobile money to play bets. Major sports betting platforms in South Africa, like 10bet, FafaBet, Playa Bets, Bet.co.za and Supabets accept 1ForYou, OTT, Blu and more. It's never been easier to make a deposit into your account using these cash vouchers.
How to withdraw sports betting winnings in South Africa without FICA
It's important to understand that FICA is in place to protect the integrity, safety and security of your account. It is highly advised that you complete the FICA process to protect your own interest as well as the interest of the South African financial system.
Most South Africans have a mobile phone and as such a mobile phone number. When you have a mobile phone you are also carrying your eWallet in your phone. There are mobile money options like FNB eWallet or Standard Bank Instant Money, where a pin is sent to your phone and then you withdraw your money at an ATM.
How to deposit into your sports betting account using a voucher
There are plenty of options for buying vouchers, just make sure that the betting site you choose to use accepts vouchers from the voucher platform you want to use. Some of the more popular voucher platforms that South Africans make use of are:
Let's take a close look at each of these voucher platforms that South Africans use to make deposits into their sports betting accounts.
1ForYou Vouchers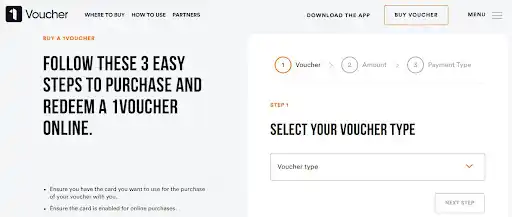 1ForYou has to be one of the simplest ways to get a voucher to make a deposit into a sports betting account. Their website basically guides you through the whole process in three easy steps.
How to buy 1ForYou Vouchers?
Select the voucher type. For South Africans there is only one option, the 1Voucher
Enter your voucher amount and chose if you want to receive the voucher via SMS or email
Make the payment for your voucher
OTT Voucher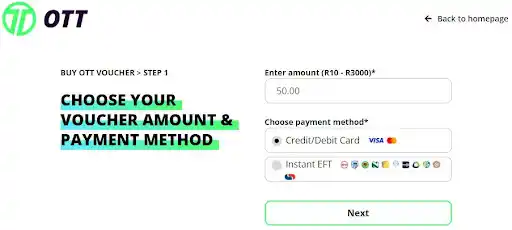 OTT vouchers are also a very simple step-by-step process setup for South Africans to buy cash vouchers. You can buy vouchers in three easy steps and their website is great to use on a mobile device. Meaning that you can buy your vouchers even if you don't have access to a computer.
How to buy OTT Vouchers?
Go to buy.ottvoucher.com
Enter the amount you want to buy and select your payment method
Enter your mobile number or your email address where you want the voucher sent
Make the payment for your voucher
Blu Voucher

Blu Voucher is different since you can purchase Blu vouchers at till points in South African retail shops like Checkers, Pick 'n Pay, Shoprite and more. This is a great option for anyone that might want to use cash to buy their voucher to place bets. You can buy a Blu voucher for any amount between R2 and R1000.
Pick 'n Pay explains in detail how to get Blu Vouchers from their tills in this post.
How to buy Blu Vouchers?
Ask for a Blu voucher at the till point in your retailer that sells Bu voucher for your specified amount
Pay for your voucher
Receive your voucher pin on your till receipt ready to use
Which South African Sports Betting sites let you deposit with vouchers?
Would have been pretty mean of us if we told you  how to get vouchers but we didn't tell you what South African sports betting sites let you deposit vouchers into your account. We're not mean. We like to help, so below is a look at some of the sports betting sites in South Africa where you can deposit with money vouchers.
10bet
10bet as a brand was established 20 years ago in 2023. The brand operates in over 90 countries worldwide, including South Africa. They offer bets on a huge variety of sports, but they also offer casino games.Since 10bet offers bets on almost every sport you can think of, it's a great place to place pre-match bets, live bets, outright bets and more.
10Bet Payment options
1ForYou
Capitec Pay
OTT Voucher
BluVoucher
EasyPay
Credit Card
OZOW EFT
Masterpass
Zapper
Fafabet
Fafabet is fully licensed and regulated by the Western Cape Gambling And Racing Board. That's always a good sign since regulation protects the people playing bets just as much as it protects the sports betting sites. The main focus at Fafabet is sports betting but you will also find some great casino games on their site to pass the time with.
Fafabet Pyament Options
Callpay
Ozow
OTT voucher
Blu voucher
Playa Bets
Local is lekker and Playa Bets is a local is lekker betting site that is proudly South African. For years Play Bets have had sports betting shops all around South Africa and now they offer the same great services online. If you are looking for a tried and tested, truly South African sports betting brand then Playa Bets is the one for you.
Playa Bets Payment Options
Visa
Mastercard
SID Instant EFT
Direct Bank Deposit
OTT Vouchers
1Voucher
Zapper
Bet.co.za
Bet.co.za offers bets in a large variety of sports and along with their healthy welcome bonus, this has ensured that it has become one of the most popular sports bettings sites for South Africans.  Other than just sports betting Bet.co.za also offers lucky numbers games.
Bet.co.za Payment Options
Masterpass
SID Instant EFT
OTT Voucher
Zapper
Mastercard
Visa
OZOW
Supabets
Supabets is a popular sports betting brand in South Africa, offering South Africans sports betting options since 2008. Supabets is a trusted brand not only in South Africa, but also in other African countries like Ghana, Zambia, Tanzania and more. Supabest is one of the sports betting platforms that offers the most payment options to South Africans.
Supabets Payment Options
Cash Deposit
EasyEFT
SID Instant EFT
Prepaid Cards
1 Voucher
FNB eWallet Pro
Standard Bank Instant Money
Visa and Mastercard – Debit Cards
Pay By Phone - Airtime
Place bets without FICA documents or a bank account
Even if you are South African and even if you don't have a South African bank account, that shouldn't stop you from placing a bet here and there. Now you know that you can bet online in South Africa without a bank account or FICA documents. It's no more trouble than it would have been to place a bet any other way.
No bank account? No problem. Just receive your winnings via your phone number and FNB eWallet, ABSA Cash Send, Standard Bank Instant Money or Nedbank Send-iMali/MobiMoney. You can deposit into your sports betting account by buying a money voucher like Blu Voucher with cash at a till point at your local Pick 'n Pay. Or get a money voucher sent to your email or phone number.
The options might not be endless, but there certainly are lots of options for you to play your bets on the game this weekend. Don't let FICA documents hold you back.
Have You Found What You're Looking for?
Your feedback is paramount!