Written by
Patrick Meyer

Reading time
3 min
read
In the realm of mixed martial arts, the Ultimate Fighting Championship (UFC) stands out as the premier organization. With its electrifying fights, talented fighters, and global fan base, the UFC has captivated audiences worldwide. South Africa, known for its passionate sports enthusiasts, has also embraced the sport of MMA, prompting the rise of UFC betting sites tailored specifically for South African bettors. In this article, we delve into the world of UFC betting in South Africa, exploring the top betting platforms, regulations, and essential tips for a rewarding betting experience.
Understanding the South African Betting Landscape
South Africa boasts a vibrant sports betting culture, with a multitude of enthusiasts actively engaging in various forms of sports wagering. As the popularity of the UFC continues to grow within the country, many avid fans have sought to enhance their viewing experience by placing bets on their favorite fighters. To cater to this demand, several online betting sites have emerged, offering a comprehensive selection of UFC betting markets and competitive odds.
Key Factors When Choosing a UFC Betting Site
When selecting a UFC betting site in South Africa, it's crucial to consider certain factors to ensure a safe, reliable, and enjoyable betting experience. Here are some key aspects to evaluate:
Licensing and Regulation
To protect your interests and ensure fair play, opt for betting sites licensed and regulated by reputable authorities. Look for licenses from respected gambling jurisdictions such as the Western Cape Gambling and Racing Board  or the Mpumalanga Gambling Board.
Range of Betting Markets
A diverse range of betting markets adds excitement and opportunities to your UFC betting journey. Look for platforms that offer an extensive selection of bet types, including outright winners, round betting, method of victory, and more. There are also other MMA promotions like PFL and RIZIN FF. If you want to bet on fights from these promotions make sure you find a betting site that offers bets for these.
Competitive Odds
Obtaining the best possible odds is paramount when striving for profitable UFC wagers. Compare odds across different betting sites to find the ones that consistently offer favorable prices and maximize your potential returns.
User-Friendly User Experience
A user-friendly betting platform can significantly enhance your overall experience. Look for intuitive interfaces, streamlined navigation, and responsive designs that facilitate seamless browsing and efficient bet placement on desktop and mobile devices.
Bonuses and Promotions
Take advantage of welcome bonuses and promotions offered by betting sites. These can provide additional value to your wagers, including sign-up bonuses, free bets, enhanced odds, and loyalty rewards.
Top UFC Betting Sites in South Africa
Supabets South Africa
Supabets South Africa is a prominent platform that caters to UFC betting enthusiasts. With a wide array of betting options and attractive welcome bonus, Supabets ensures an immersive and rewarding betting experience. The platform's commitment to transparency and customer support further solidifies its position as a top choice for UFC betting in South Africa.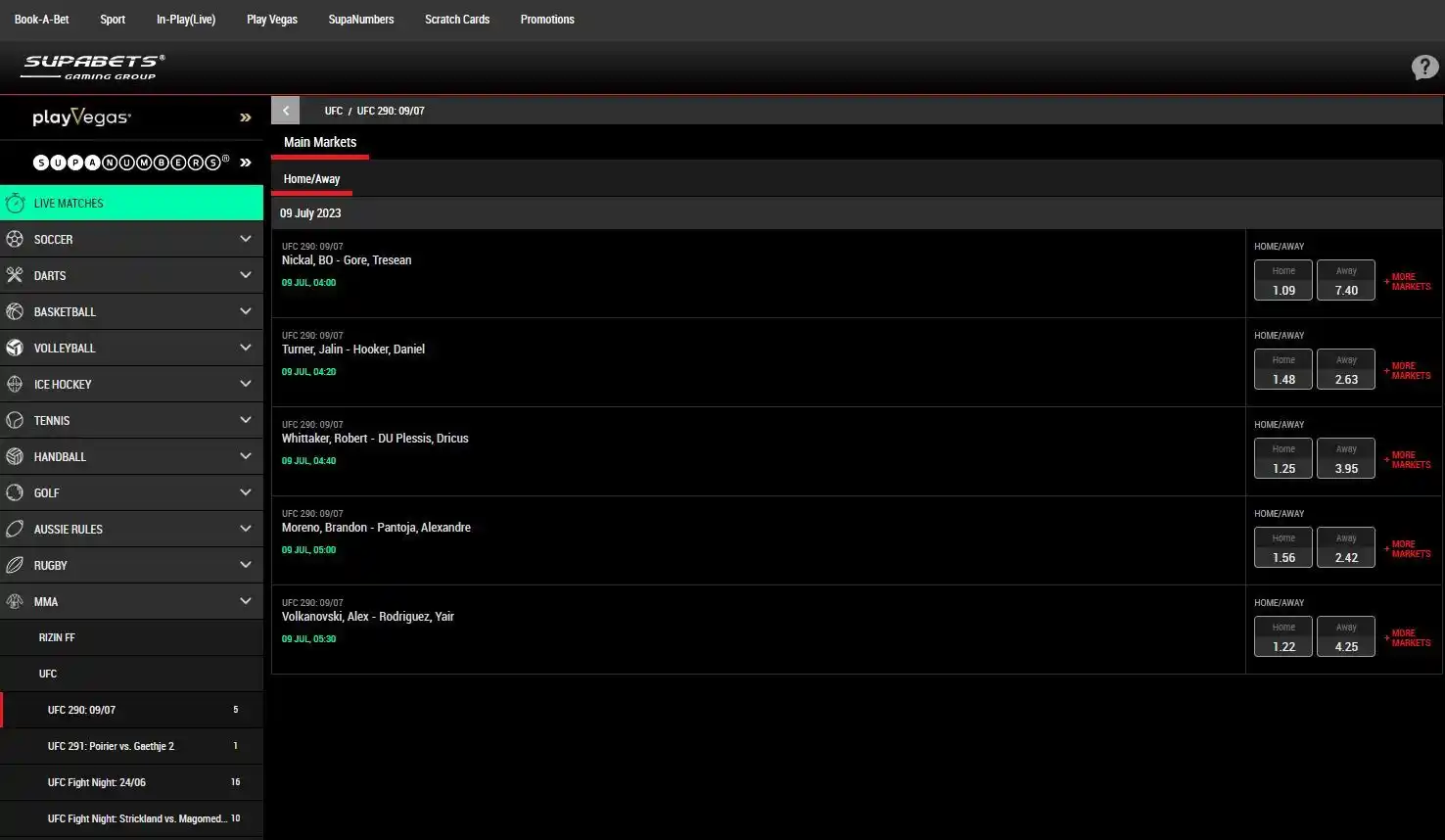 Betway South Africa
Betway South Africa has established itself as a leading UFC betting site in the country. It offers an extensive range of UFC markets, competitive odds, and a user-friendly interface. With a strong reputation and a focus on customer satisfaction, Betway South Africa provides an exceptional betting experience for both novice and seasoned bettors.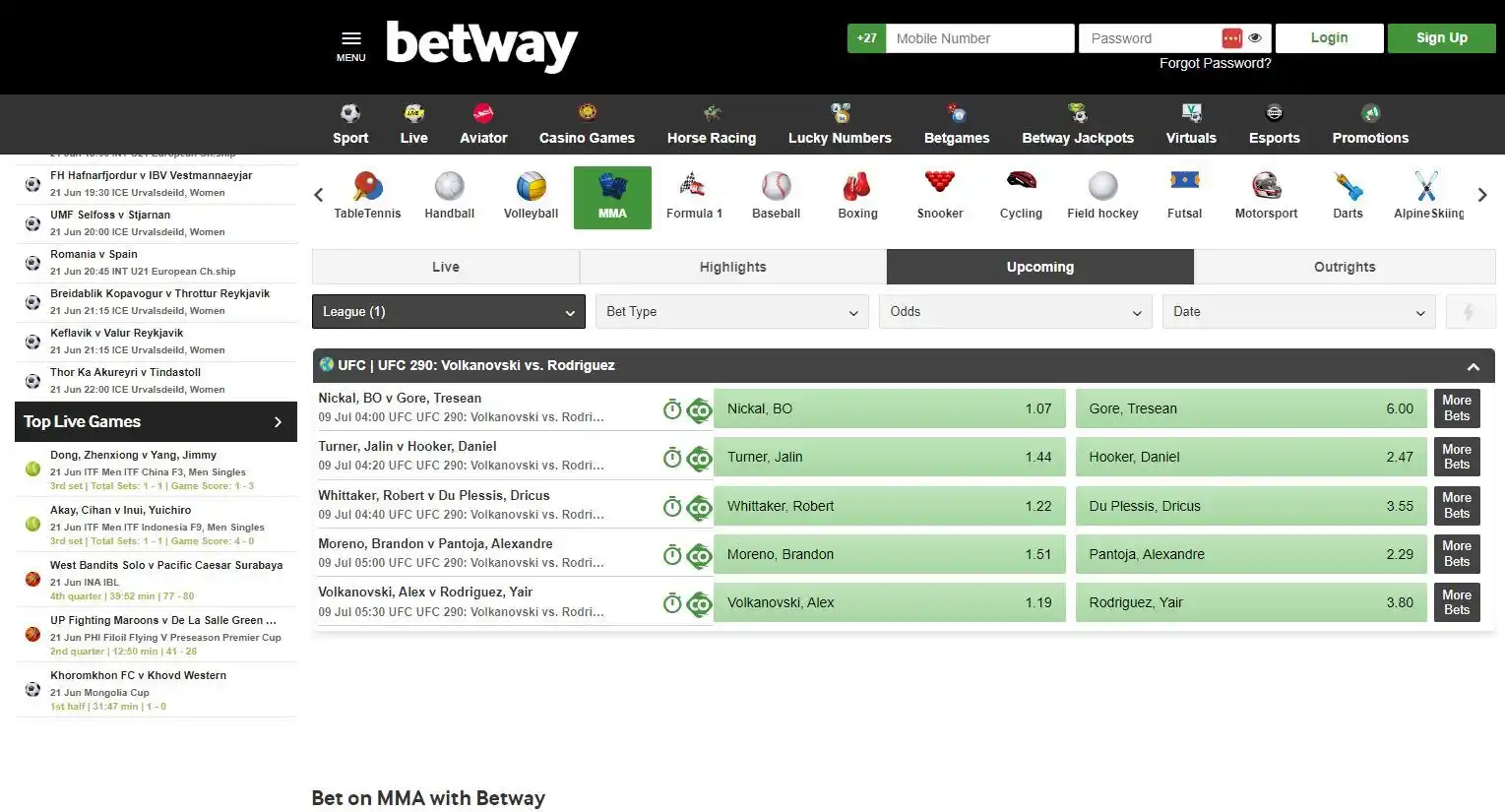 Playa Bets
Playa Bets, a renowned name in the South African betting industry, has also embraced the UFC betting craze. With a vast selection of betting markets, competitive odds, and an intuitive platform, Playa Bets offers a comprehensive UFC betting experience. The platform's commitment to responsible gambling and its strong community presence make it an appealing choice for South African UFC bettors.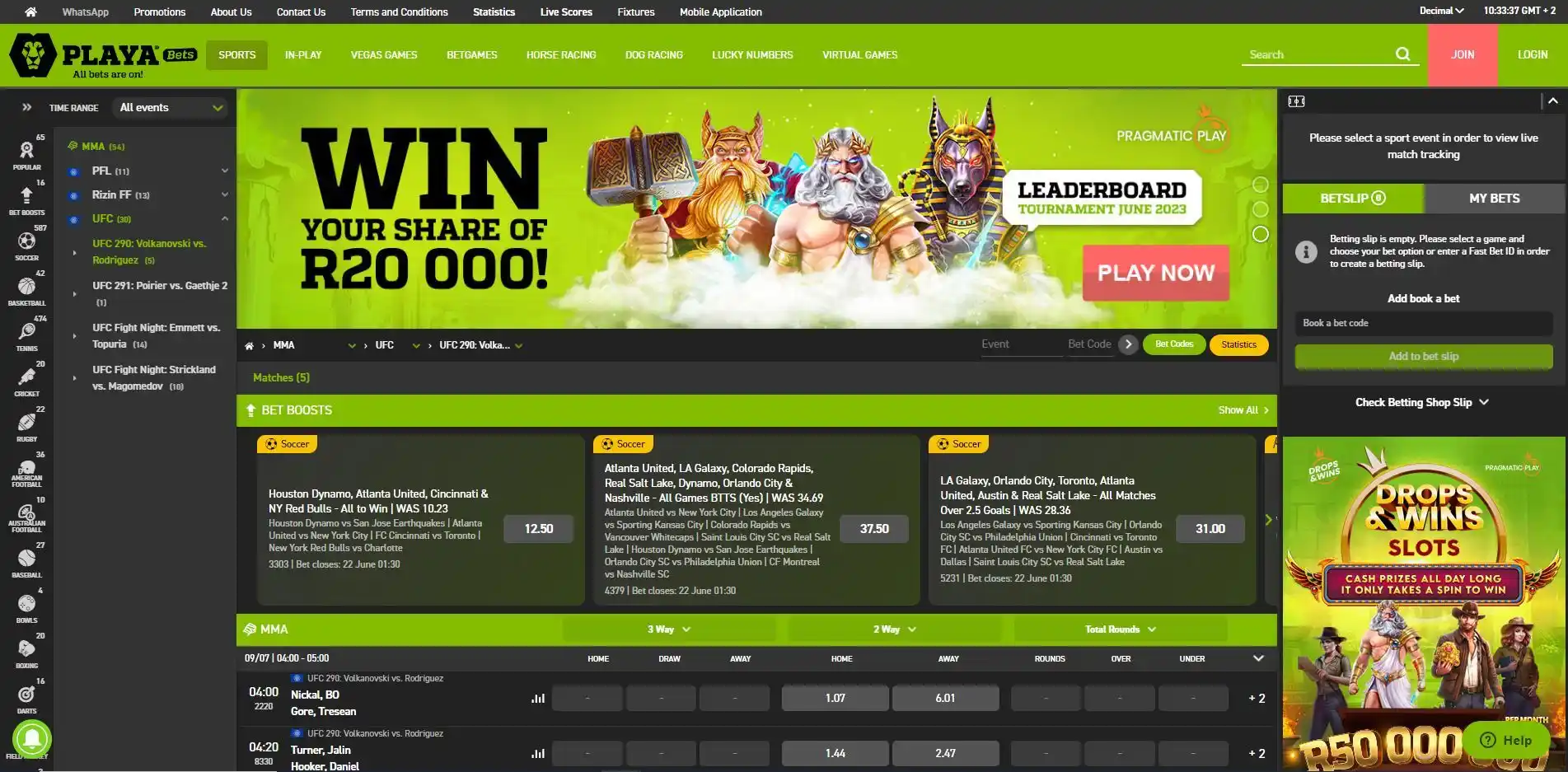 Tips for UFC Betting in South Africa
To optimize your chances of success in UFC betting, consider the following tips:
Research Fighters and Events
Thoroughly research fighters' backgrounds, styles, and recent performances before placing your bets. Stay up-to-date with upcoming events, injury reports, and changes in fight card matchups to make well-informed betting decisions. Consider following an MMA news source on social media, like MMAFighting.com on Twitter.
Understand Different Betting Markets
Familiarize yourself with various UFC betting markets and their specific intricacies. By diversifying your bets across different markets, you can explore different avenues for potential profits. You could play muti-bets on multiple fights for the night.
Practice Responsible Gambling
Engage in responsible gambling practices by setting limits on your betting activities. Never wager more than you can afford to lose and seek assistance if you develop signs of problem gambling.
Be Part of the growing UFC Betting scene in South Africa
South Africa's passion for UFC and sports betting has paved the way for an exciting and thriving UFC betting scene. By choosing reputable UFC betting sites, conducting thorough research, and implementing sound betting strategies, South African bettors can enhance their enjoyment of the sport while potentially reaping substantial rewards. Remember to always gamble responsibly, and may your UFC betting journey be filled with thrilling victories and memorable moments.
Have You Found What You're Looking for?
Your feedback is paramount!