Written by
Patrick Meyer

Reading time
2 min
read

South Africa 🇿🇦  vs New Zealand 🇳🇿 Saturday, 28 October
Anticipation is building for what promises to be an epic Rugby World Cup final as South Africa secured a thrilling 16-15 victory over England. The Springboks' remarkable semi-final win, often described as a Houdini act, occurred at Stade de France, setting the stage for a tantalising showdown with the All Blacks.
The contrast between South Africa's hard-fought triumph and New Zealand's commanding 44-6 victory over Argentina in the preceding semi-final could not have been starker. Bookmakers face a daunting task in differentiating between these rugby titans, both vying for the prestigious honour of becoming the first nation to secure a fourth World Cup title.
Remarkably, despite their storied histories, the Springboks and All Blacks have only met once in a World Cup final. The iconic 1995 showdown at Ellis Park, where a South African team inspired by the late Nelson Mandela slowed the indomitable Jonah Lomu and emerged victorious with a 15-12 extra-time win, remains etched in rugby folklore.
Former Wallabies backrower Stephen Hoiles expressed his satisfaction with the prospect of witnessing a South Africa vs. New Zealand final. He believed that England's playing style in the semi-final was not the most captivating spectacle, and he looked forward to an outstanding game of rugby in the final, akin to the excitement seen in the quarter-finals.
Both South Africa and New Zealand experienced early setbacks in the tournament, with the All Blacks falling to France in the opener and the Springboks losing to then-world No.1 Ireland. Subsequently, the Springboks climbed back to the top of the world rankings, with the All Blacks trailing closely at No.2.
Hoiles emphasized the familiarity these teams share, having frequently clashed in the Rugby Championship and Super Rugby over two decades. This familiarity, he suggested, would result in a more confident and attacking approach in the final.
In reflecting on the potential final match, Hoiles acknowledged that South Africa and New Zealand have demonstrated their ability to adapt to their opponents' style of play. He contrasted this with contests between northern and southern hemisphere teams, which often start cautiously as both sides assess their rivals' tactics.
While Hoiles expressed hopes of having Wayne Barnes, a prominent northern hemisphere referee, officiate the final, he maintained that the All Blacks were the favourites to emerge victorious. The upcoming clash promises to be a battle of rugby giants, eagerly anticipated by fans worldwide.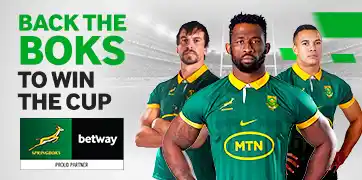 Place Your Bets & Back The Boks
| Betting Site | New Zealand 🇳🇿  | South Africa 🇿🇦 |
| --- | --- | --- |
| | 1.85 | 2.04 |
| | 1.92 | 2.12 |
| | 1.00 | 0.85 |
| | 1.84 | 2.02 |
| | 1.87 | 2.06 |
| | 1.85 | 2.20 |
More on Rugby Betting
Have You Found What You're Looking for?
Your feedback is paramount!